Smiths Speedometer Cables, Smiths Tachometer Cables, Smiths Instrument Repair
At Vintage British Cables, we strive to provide you with the best replacement SMITHS Speedometer Cable & SMITHS Tachometer Cable available for your Classic, Post War, British motorcycle or automobile.
Custom Speedometer Cables made to your specifications.
SMITHS speedometer cables are original equipment and renowned for their quality and durability. We believe we manufacture the best reproduction Smiths cables available.
We manufacture Reproduction SMITHS Speedo cables & SMITHS Tacho Cables using Original SMITHS Equipment, Presses and Dies.
We have a large selection of Genuine New Old Stock SMITHS fittings. We also have an extensive library of SMITHS build specifications and technical drawings for reference.
Our tooling, inventory and technical reference originated from the defunct SMITHS INDUSTRIES North America.
If you are restoring a vintage British car or British motorcycle you owe it to yourself to have the best.
No one else can reproduce the quality and authenticity of SMITHS speedometer cables and SMITHS tachometer Cables that we can. Our Cables fit and function like the originals.
We can manufacture custom speedometer cable lengths as required. Custom length Speedo cable's can usually be made at no extra cost.
We are also able to provide repair service for your existing cable.
Our motorcycle cables are manufactured with authentic steel armor when specified. The cable for your
BSA
,
Norton
,
Triumph
or other make will look like the original.
We provide accurate replicas that are needed for Concours quality restorations. Typically 5 points are awarded for correct cables. This is an especially important detail in motorcycle restoration as the cable is clearly visible.
While we do have tens of thousands of NOS fittings, we do not have a complete selection and some cables we cannot replicate. We have a very limited supply of pre war fittings.

Some of our stock is limited and maybe your last chance at NOS SMITHS.
We have an inventory of genuine NOS SMITHS cables for sale while quantities last.
Much of our inventory of original fittings is in sealed SMITHS boxes and has the appearance of new, while open stock boxes may have the patina of age.
We are located in Alberta, Canada. We look forward to serving all your classic vehicle, SMITHS Speedo Cable and SMITHS Tach Cable needs. We ship worldwide.
SMITHS Speedometer Repair, Smiths Tachometer Repair (Motorcycle)

We can repair or restore your Smiths instrument for your motorcycle, whether it is a magnetic instrument or chronometric instrument.
We have acquired the former instrument parts and tooling inventory for motorcycles of SMITHS NORTH AMERICA.
Alpha Instruments of Toronto, bought the stock of Smiths Industries North America, which in turn came to Alberta as 8 tons of inventory.
This inventory was sorted as to cables, fittings and tools as well as motorcycle instruments and parts which became Vintage British Cables.
The automotive instruments did not remain in Alberta.

---
The 2 ring crimp is a tell tale sign of a SMITHS Cable. The 2 ring crimp will provide the best possible seal against moisture.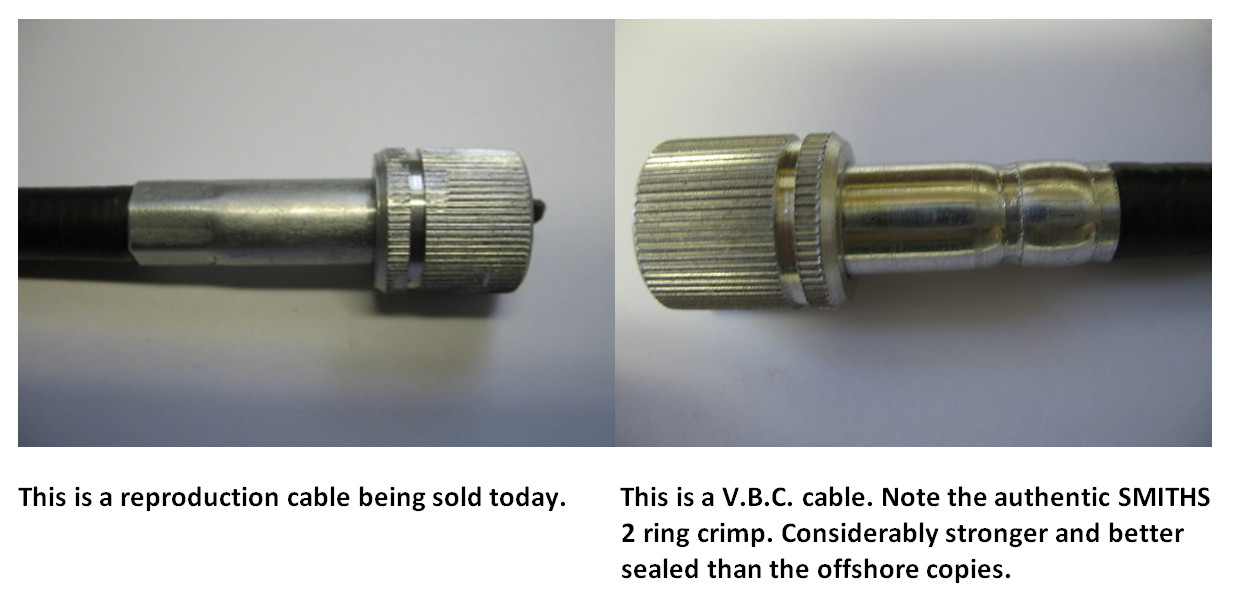 We use authentic plated steel armor on cables that specify it. We can add armor to any custom cable.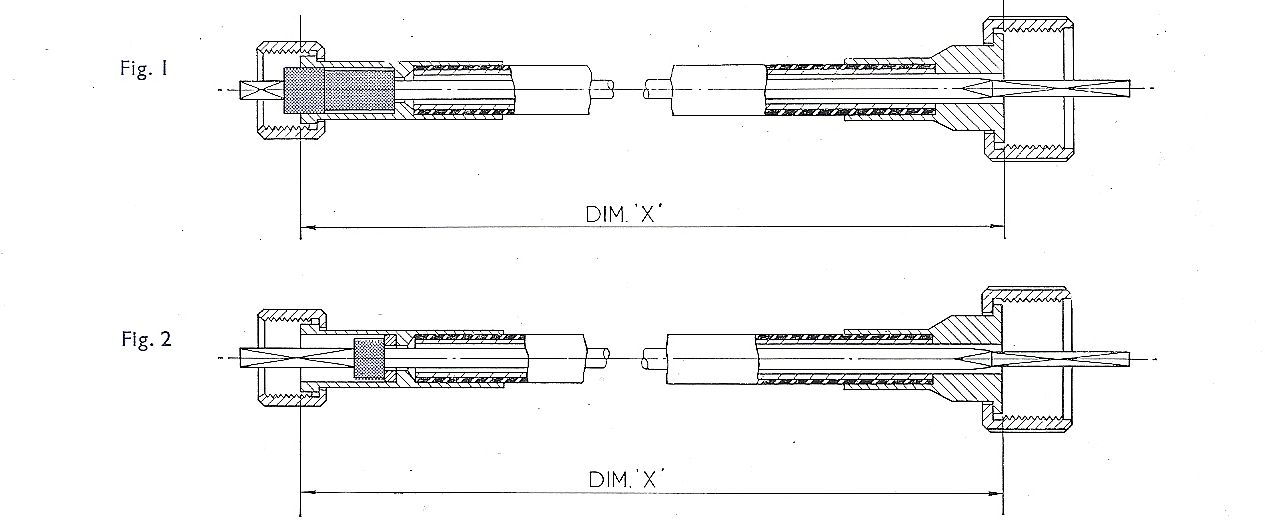 Measurement of Flexible Drives
The length of the Flexible Drive is measured over the abutment faces of the outer casing
end fittings, as shown by the dimension 'X' in Figures 1 and 2.
Over length cables can cause problems and cable bends should be kept to a minimum. Inner cable length will decrease 11/16" per 360 degrees of bends.
GST added to sales within Canada.

We ship next business day.
We accept Major Credit Cards through Paypal or by Phone.
No PayPal Account Required.
| | |
| --- | --- |
| | |